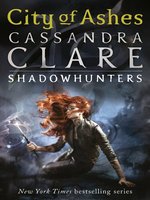 I'm gonna review both of these books on one blog. They are two and three in this little trilogy. Book one is
City of Bones
. The big story doesn't end in
City of Glass
, but this particular adventure does.
Actually, I don't have much to say about these last two books--they've been very widely read and reported on all over the internet. They're not very different from other books of their type and they are very engaging. I liked our main character, Clary, very much and was very interested in the outcome of this particular conflict.
Of course, this is just the first of many conflicts that Clary, Simon, Jace, Alec, Isabelle and their attendant parents and friends experience over the course of this very long "Mortal Instruments" series. I can see why so many are hooked on the books, although I won't be reading any further--they're kind of empty and obviously written to appeal to a young demographic.
The books are pure fluff. They are imaginative and exciting. They have a variety of relationships. They are fun to read. There are no important ideas and nothing is unpredictable. The teenagers are the main heroes in this book--the adults either don't listen, are impotent to act, or are traitors. The bad guy is great--he is really bad.
Bad language: none
Sex: referred to by teenagers, passionate kisses exchanged, incest discussed, one same sex relationship (between a teenager and an adult) initiated. Lots of sexual stuff for a YA series, isn't it? There are no sex scenes, no descriptive make-out scenes even, but this is the kind of "benign" sex that I can't stand to see in a book written for teenagers--it seems harmless but really isn't. The kids in this book are engaging in sexual relationships as if they were adults--and the book makes it seem like this is normal. Are the characters teenagers because this demographic buys these kind of books? Or are the books geared to teenagers because there's very little of substance in these stories? Hm. I'm tired of fluff. The next book I read is gonna have something a little more meaningful to say.